This weekend two stories happen with animals. One good, one bad.
In this order.
Saturday around noon I was in the living room surfing in the forum.
BUM !
That happen not inside the house!
I went outside.
A bird had crashed against my window. It sat on the ground like it was drunk.
Just in this moment my black (Miss) cat arrived. She was about to shorten the bird`s live rapidly. In the past she had arrived with some bird for me.
Immediately I shout her out by closing the door.
What to do?
Very, very carefully I took the bird that seamed like having being drugged into my hands. I expected that it defended itself with its beack. To my surprise it walked with both feed into my hands !
I put it to a saver place that my cat couldn´t reach.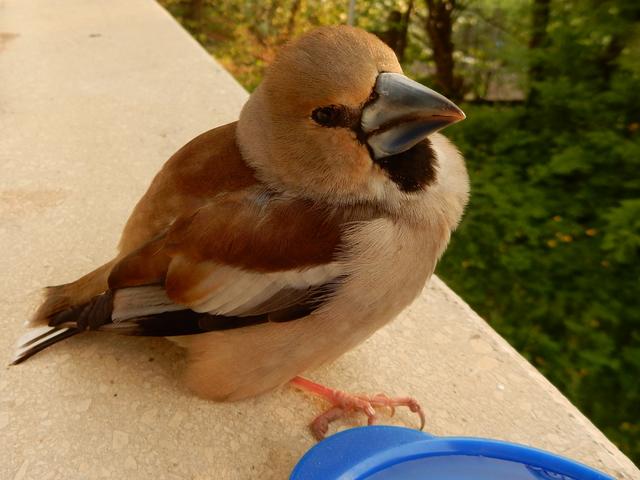 Put some water next to it.
Checked all three minutes its situation. It look better each time. By my last check it had disappeared.
All it had left to me was a yellow dot of sh.. .
This morning 2.30 AM I woke up to an unusual noise. Drowsy I thought that a marten was up in the attic.
Surfising from my dreams I realized it was not in the attic. But rather out side. I open the window now completely. I heard the sound of someone or something knocking on wood.
The neighbors chicken sounds additionally !
I run down into the cellar.To get the torch.
In such a situation the battery are usually empty.
But no. Not this time. Few weeks ago I was in need to change it for new ones. Fortune favors fools.
I switched on the big light outside the house. I jumped outside. Walked fast to the neighbors garden.
Nothing !
Suddenly. There was that sound again.
But no more chicken sound.
I lit the torch, saw nothing and this unknown sound is still on and off.
Sorry, I am not a hero.
I walked fast into my house to call the neighbors 2.40 AM !
After the call I walked an other path to the neighbors garden. I Used the torch again.
The neighbors came out of there house.
Then I realised the situation and could warn everybody.
A fox was in the henhouse!
Some were already dead. Only a few still alive.
How to push it away?
Bear in mind that an animal which feels trapped is dangerous!
We armed ourselves with wooden boards.
The fox tried to get out the same way he had gotten in. The chicken wire was bend down due to his weight and so he had been able to get in.
Cutting some zip stripes and useing the wet output of a garden house we managed to force it to retread together.
This took us about one hour !
But the losses were high.
Only three survivor. Including the chicken with a tumor that the doctor has mentioned this chicken will not survive the Easter weekend !
Both story are neither unusual nor new. They really happened like this or similar way several times all over the world.
But finding myself unexpectedly involved made quite an impression to me.