Wrecked roofs
Materials required
Bag of matchsticks from a craft shop
Wood or modelling glue
Balsa wood strips
Wills roofing of your chosen type and off cuts from previous builds
Decorators caulk
Modelling knife
Paint
Method
I prefer to have my buildings to have detachable roofs as this allows access to place troops within the property.
The advantage here also is that when the building is damaged, this can be replicated without having to have a substitute or wrecking the model. Simply place a damaged roof on the building, having removed the original. Further realism can be created by having a complete roof of rafters etc upon which the damaged roof can be placed. However a section of roof with damaged rafters also works well.
First cut the main ridge spar to length and then cut into two. Alternatively use two thinner spars that can be glued together later.
Depending on the size of the roof you will then need to make the rafters. My normal size roofs allow match sticks to work perfectly. These are glued at regular intervals to the two spar sections. Then the cross rafters are glued on underneath the down soars. Ie turn the section over. The idea is that the roof covering will lie against the down spars, not the cross spars. Again matches are ideal although balsa Sprues work but are more expensive. Repeat for the other side.
Once all glued and dried the two complete sections can then be glued at the correct angle to fit the building. I use the building as the jig.
The roofing can then be constructed to fit over the rafters or just decorate the rafters with damaged tiling. The rafters can be damaged as required, it is a matter of personal choice.I do a mixture of both so that further damage can be represented by the removal of the damaged tile section.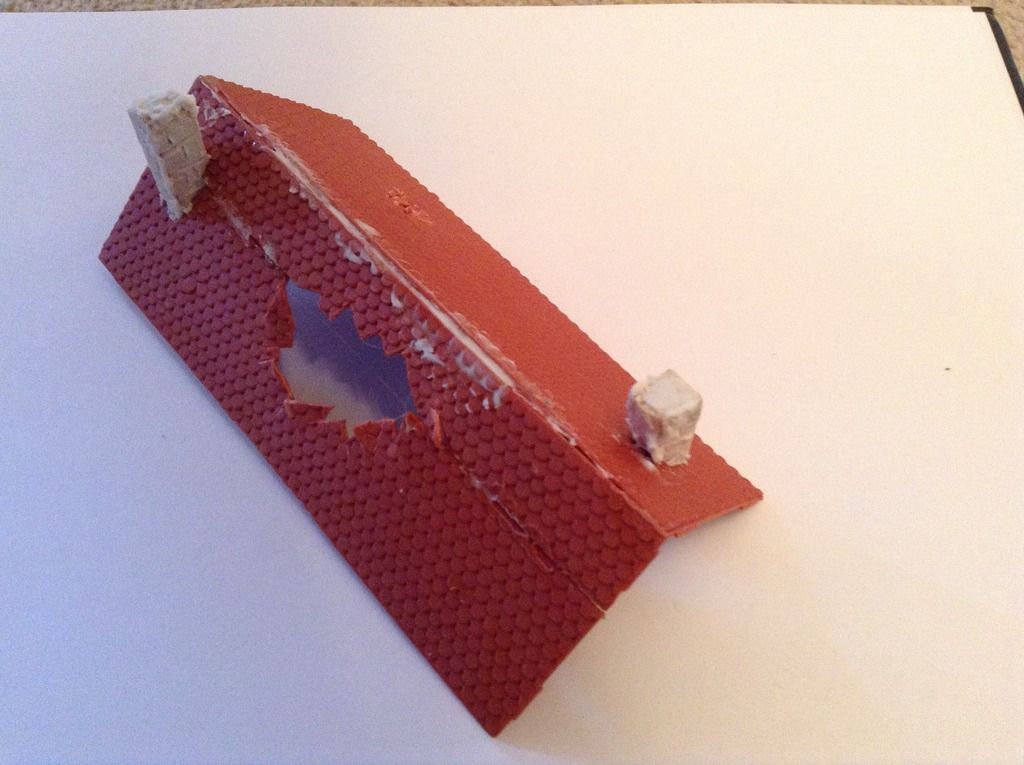 Do not forget the chimneys broken or otherwise. Balsa wood with decorators caulk for brickwork works well.
If doing shot damage I suggest boring shot jokes on one side and explosion holes on the other. The roof can be rotated if required to represent bigger damage without having to make two roofs.
When happy, paint up and weather. Smoke damage can be represented by burning a plastic sprue and smoking things up with the sooty smoke. Take care not to set fire to your model or yourself, especially when the plastic starts to get going!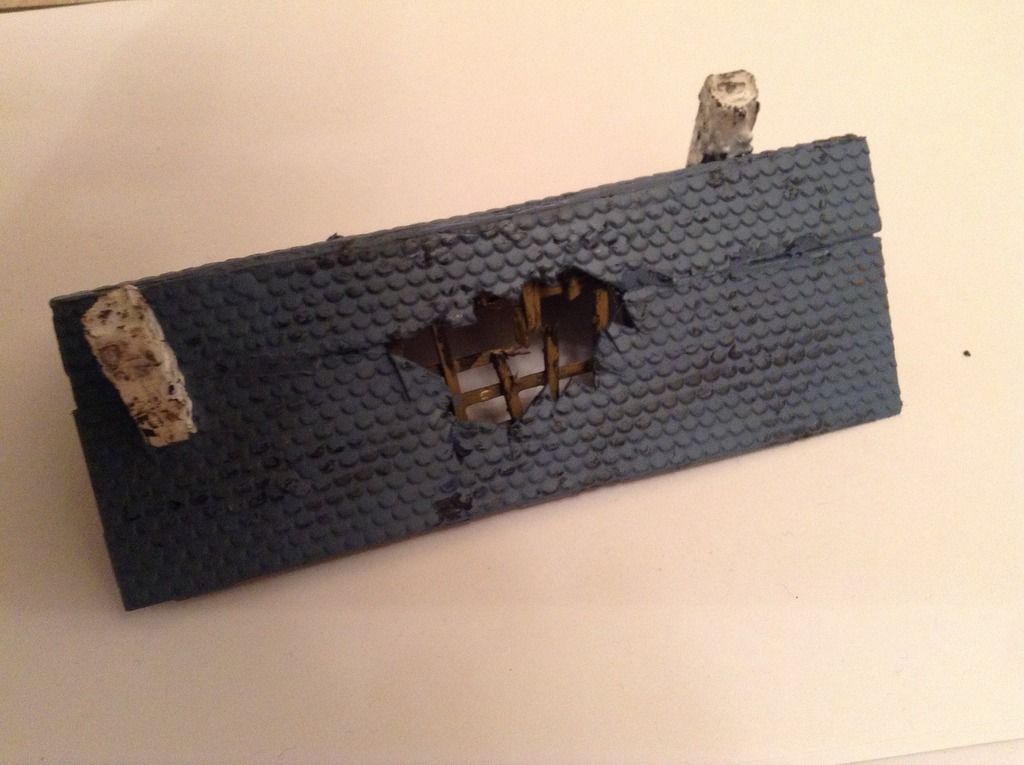 Happy modelling.
Chris