I have been working on this complicated diorama for the last months. I have been trying to get out of the Comfort zone in several ways so it's kind of time demanding.
I haven't built any form of vehicle model since I was 12 or 13, let alone tried any form of conversion. So scratch building a driver, while at the same time constantly making him fit with the seat and steering Wheel was quite a challenge as well as opening a shut door.
The car is the British Staff Car Forlite Saloon 8HP mod.1939:
http://acemodel.com.ua/en/model/440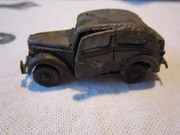 I have made a separate thread related to this diorama in the general forum where I'm looking for info about the different paint schemes of the Austin K2 ambulance.
viewtopic.php?f=103&t=22089
I Think I could need some input from you guys about this diorama. There are lots of aspects to it that complicates it.