The Ascari were the Italian indigenous troops in Erithrea during the colonial period (1885-1941), they were hired Erithrean, Ethiopics, Sudanese and Yemenites, with local NCOs and Italian officers.
They were good soldiers, well trained and much more effective of the metropolitan troops when sent there. The Ascari were famous for the marching capability, up to 60 km per day in the rocky zones of Erithrea and Ethiopia (without shoes, they always refused the boots supplied by the Italians!)
The Ascari dressed a white uniform with red hat, the most famous unit was the 4th btg, commanded by Major Toselli, identified by black belt/sash and plumes on the hat.
In 1890 at Agordat 2000 ascari routed 10000 dervish mahdists invading from Sudan. In that battle they surprised the mahdists used to face the British compact squares: the Ascari were deployed in a long, thin line formation, with space between each soldier, to reduce the impact of the dense but imprecise Dervish fire. In addition, instead of waiting the dervish horde attack, they advanced firing regularly (shoot, reload, advance, shoot), up to the final charge on the routing enemy.
Another winning battle was in Coatit in January 1895 against the Tigrians of Ras Mangascià, where 4000 ascari defeated an army of 15000 men.
This victory forced the Ethiopian negus (emperor) Menelik to enter in the war against Italy, mobilizing an army of 100000 warriors, half of them armed with modern weapons and also with artillery (trained by western advisors).
The Italians sent from motherland an expedition group of 15000 soldiers, totally untrained and unaware of the terribly hot weather of the zone.
While this force was arriving, Major Toselli with his 4th Ascari was sent to block the Amba Alagi mountain, with its strategic pass on the way of the advancing Ethiopian army (Amba Alagi was later the last battle of the Italians against the British in 1941, but that's another story…).
Despite the HQ promises of additional support, Toselli understood it was a suicide mission, 2000 men against 25000 Ethiopians of Ras Mekkonen, advancing party of the main body of 75000 men lead by the Negus Menelik in person.... but orders are orders.
The battle was a modern Thermopilis, the 4th Ascari was wiped out after a six hours battle up to the last ammunition, Major Toselli was killed near the end of the fight.
After the Amba Alagi, in March 1896 the full Ethiopian Army clashed with the Italian expedition force in Adua, and the result was similar to Isandlwana for British, the Italians were overwhelmed and destroyed. This catastrophic defeat stopped Italians attempts to invade Ethiopia until the Mussolinian war in 1935.
My small diorama will show the last stand of Major Toselli and his 4th Ascari on the rocky Amba Alagi , the figures are from Massimo Costa ("42nd black watch miniatures").
Here are the figures of the box.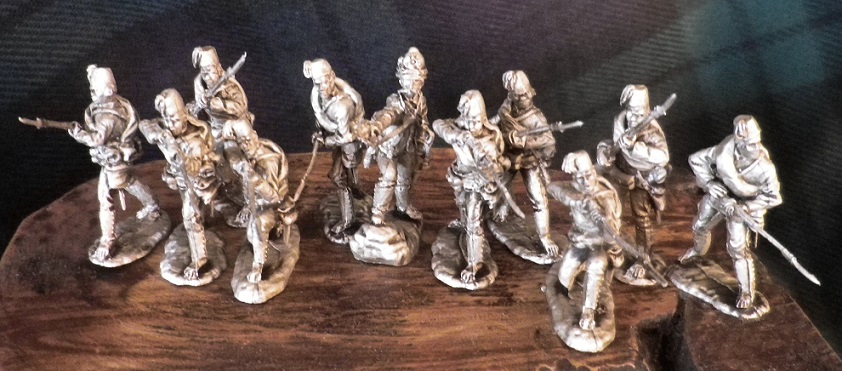 And the first three painted Ascari.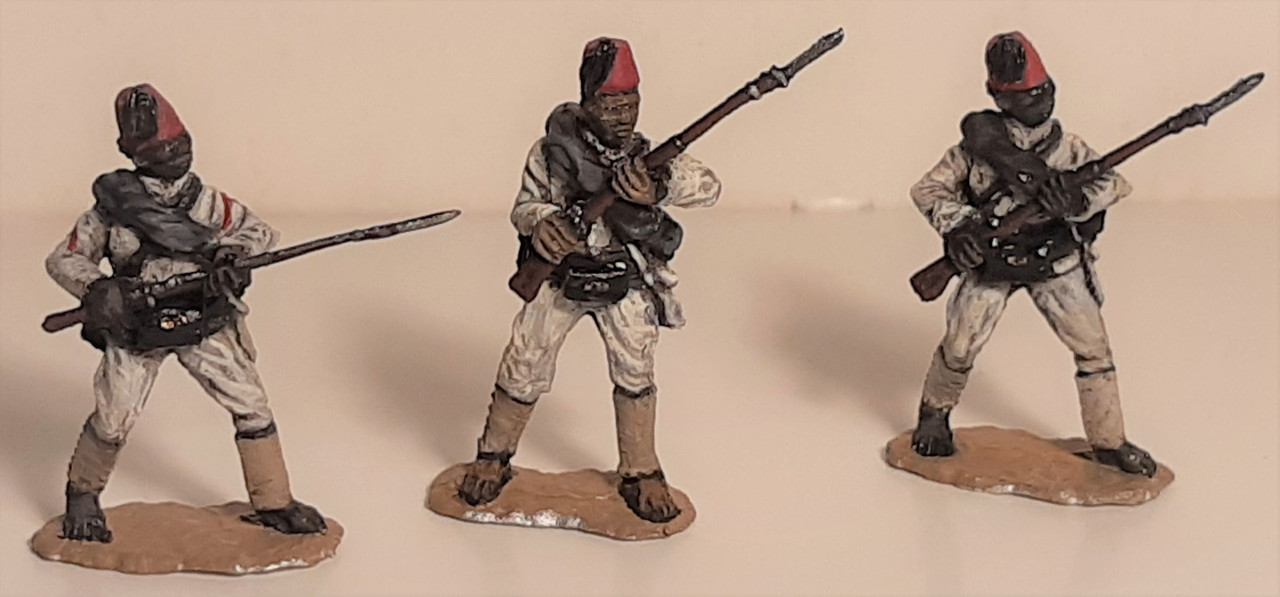 Stay tuned