Hi,
As I wrote some time ago, I'm living in street named "Heroes of Monte Cassino". Maybe someone could ask: "Which heroes?", but in Poland everybody remembered about allies, some peoples loved in history admires opponents, but the most know about polish troops charged on closter hill.
After less than two weeks will be anniversary of this moment. I hope, my dio will be ready.
Some my troops from Hat, Zvezda, Esci sets.


This figure was in box "trash" from the times I was very young and played toy soldiers. As a child a didn't saw how beautiful is this figure. Now, is one of my most favorites.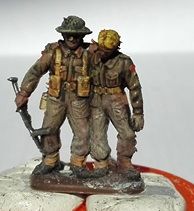 Now, I look on maps, and old photos. Next step - dioram. Will be continued...