Now that Susofrick is back from vacation, I can once again post my diary entries. Again, in the unlikely event that anyone has responses to share, share them in this thread so we can keep the dueling thread tidy.
Link to original duel here:
viewtopic.php?f=17&t=21448
After my crushing but fun defeat at the hands of Mr. Andrea in the January 2018 duel, it was time to pick the pieces back up and soldier on. When the Pegasus set of Army Rangers D-Day got me back into the hobby back in 2007, I bought a lot of sets of various WWII Germans so they would have an opponent. My thought was that I would paint for a few weeks or months to get back into the swing of painting, then I would tackle the Pegasus Rangers set. I still have not yet painted them. But, then again, it has only been about 12 years. So I will probably get around to it one of these days.
My mystery opponent challenged me to paint the marching soldier from the Zvezda small box German Infantry set. He looks sort of tired to me. Not the proud strutting of the victorious Polish or French campaigns. Anyway, I had had lots of practice painting WWII Germans in the last few years. I decided to give him the title "Trudging Towards Leningrad" because he looks to me like he is getting tired of the war.
I always like to have at least two copies of the figure for the duel. That way, if one gets damaged, I can have another one ready to hand. On rare occasions I have decided to paint one first as an experimental copy, then proceed on to the real copy. On all other occasions, the practice copy turned out well enough to be the actual entry. This time, however, I decided to try to paint the tunic in a very early war look, suitable for the Polish campaign, using Vallejo German Uniform, quite a greenish color, with neutral grey trousers. Here was the first attempt: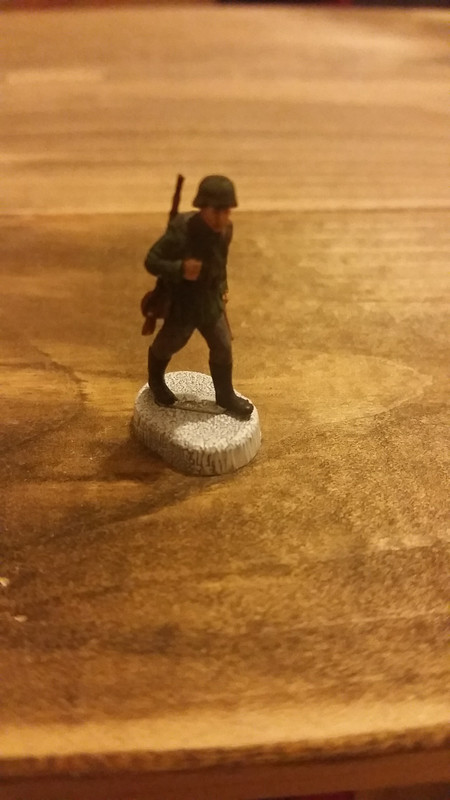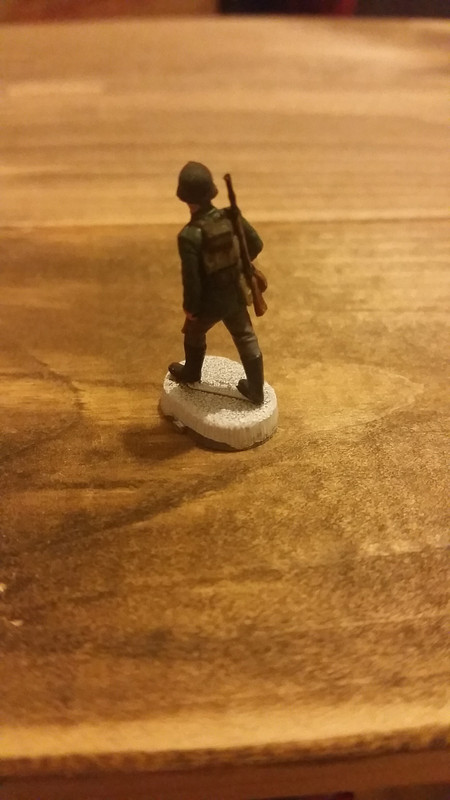 Well, I really didn't like it. So version two was more of a mid-war look with all field grey. For the photo, I tried to get a little closer than usual. And I attempted to use a black background, although it did not turn out nearly as well as some of our masters like Udo Spreng or Ildfus Mahler. After I took the photo, I noticed the glaring flaw above the figures right eye, but the overall result looked okay. And this was one of my few figures that looked better in the photo than it did in real life.
Mickey Mouse seemed to have some trouble with his entry, as he turned it in late. He is usually topnotch at painting figures and especially modeling, but dueling takes a bit of practice and it is a much different skill. I think he tried to give his figure and elaborate and detailed face--I have learned from my own painful experience that those are quite tough to pull off. The voters preferred my entry, so I was back to level at 1-1. Even though Mickey Mouse had a tough loss, I hope he will get out there and duel again soon. Hmmm, maybe I will PM him for a rematch...